Logistics and Transportation Law | DeWitt LLP
Experienced Transportation & Logistics Lawyers in Wisconsin and Minnesota
Whether you are a carrier, shipper, or third- or fourth-party intermediary, with DeWitt, you can avoid legal roadblocks. We work with the transportation industry—freight and passengers by highway, rail, marine, and air.

Our lawyers can help map the shortest route to success in transportation and logistics—business organization, contracts, compliance, and dispute resolution. Our full-service approach includes an analysis of all the legal issues and options available in transportation and logistics. In addition to our group, our team includes attorneys from a number of legal areas including bankruptcy, environmental, labor and employment, government relations, litigation and intellectual property.

When disputes arise that require mediation, arbitration, or litigation, whether in contract, employment, or patent infringement matters, we have lawyers in our industry group that have the knowledge and expertise to successfully assist our clients.

Keeping up to date on events in the transportation and logistics industry is very important to us. Our lawyers are actively involved with related associations and trade groups, for example: Minnesota Trucking Association, Lake States Shippers Association, Wisconsin Central Group, Wisconsin Motor Carriers Association, Wisconsin Manufacturers & Commerce, Wisconsin Paper Council, and Michigan Forest Products Council.
Areas we have successfully represented our transportation clients include:
Accidents and CMVs
Arbitration and Mediation
Bills of Lading
Brokerage Contracts and Disputes
Contracts, Leases and SCMs
Demurrage and Detention
Driver Regulation and CDLs
Employment and Labor
Employee Benefits
Energy and FSC
Equipment Leasing
FMCSRs and Safety Regulations
Hazardous Materials Transport
Independent Contractor
Industry Spurs
Insurance Coverage and Disputes
Labor and Employment
Litigation and Legislation
Loss and Damage
Rates, Rules and Practices
Rail Regulation and Policy
Real Estate and Facilities
Rights-of-Way and Trackage
Size and Weight
Surface Transportation Board
Tax Matters
Trade Secrets and Non-Compete
Workers/Unemployment Compensation
Warehousing
Click on the image below to view and print our Transportation & Logistics Team Matrix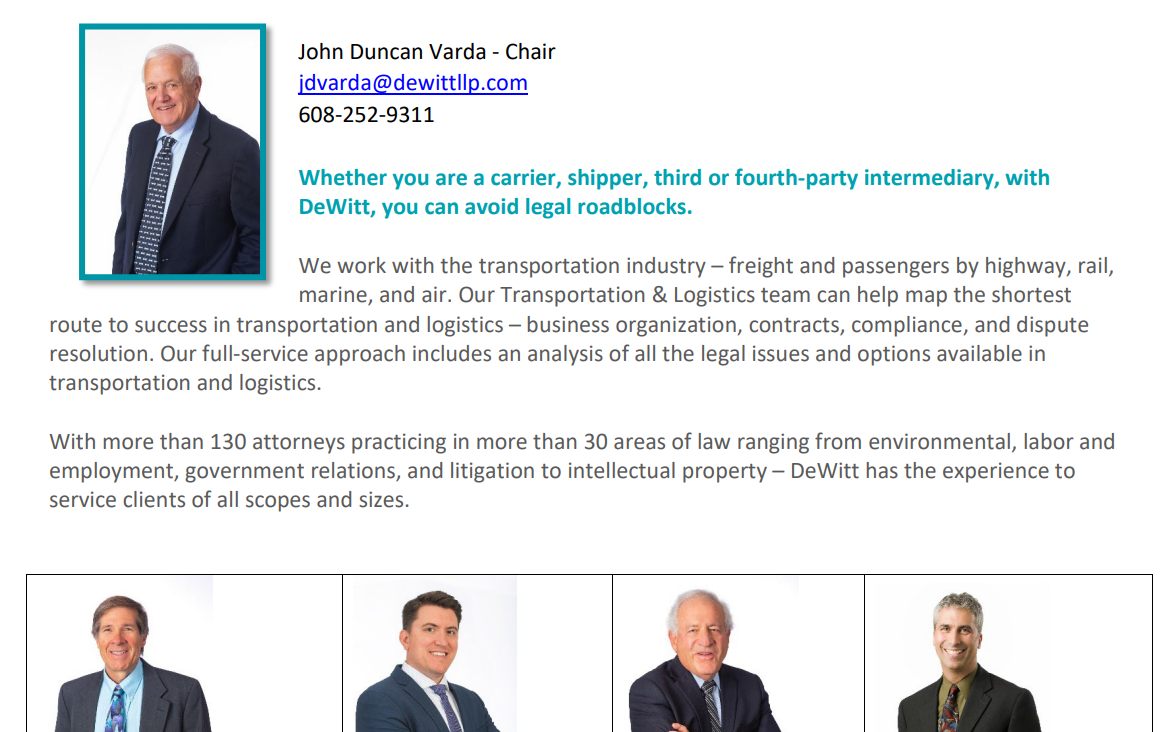 Transportation & Logistics News
Click here to view the Transportation & Logistics news feed.
More
Info
Learn More About DeWitt's Transportation & Logistics Services
If you would like more information on our Transportation & Logistics team please contact info@dewittllp.com.