News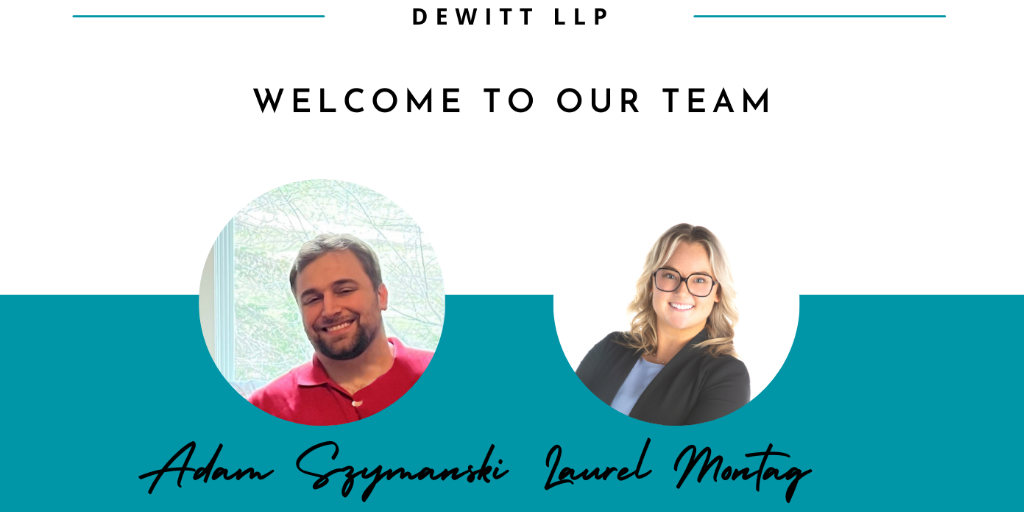 DeWitt Welcomes Two Associates to the Firm
Aug 17, 2022 | Michelle M. Friedman
GREEN BAY | MADISON | MILWAUKEE | MINNEAPOLIS – Today DeWitt LLP law firm announced associates Laurel Montag and Adam Szymanski joined the firm.
Montag, who practices from the firm's Greater Milwaukee office, is an attorney in the Business and Intellectual Property (IP) practice groups. Her focus is on preparing efficient and quality research and writing to provide clients with the tools to make informed, focused decisions.
Her prior legal experience includes working as a Summer Associate with Dewitt LLP and as an intern with the NCAA. While in law school, Montag was heavily involved in the Marquette Sports Law program, serving as the Chair of the Sports Law Competition Board. She also fine-tuned her writing skills as an editor of the Marquette Law Review and as a member of the Marquette Sports Law Review. She earned a J.D., cum laude, from Marquette University Law School and a B.A. from Colorado State University. Montag is admitted to practice in Wisconsin.
Szymanski, who practices from DeWitt's Minneapolis office, focuses on general litigation and is a member of the Appellate, Intellectual Property (IP) and Litigation practice groups. He has more than seven years of IP experience and has represented clients in an array of IP matters, including patent litigation, patent enforcement, trademark litigation, trademark prosecution, false advertising litigation, and copyright enforcement. He is well-versed in the various stages of litigation, from the pleadings through appeal.
Before joining Dewitt, Szymanski served as a visiting and then an assistant Minneapolis City Attorney, where he prosecuted gross misdemeanor and misdemeanor cases, which included trying cases before juries and litigating constitutional issues. During his time there, he also completed Drug Recognition Evaluator (DRE) classroom training and prosecuted DRE cases. He earned a J.D., cum laude, from William Mitchell College of Law and a B.S. from the University of Wisconsin-Madison. He is admitted to practice in Minnesota, the U.S. District Court for the District of Minnesota, the U.S. District Court for the Western District of Wisconsin, the U.S. Patent & Trademark Office (USPTO), the U.S. Court of Appeals for the Federal Circuit, and the U.S. Court of Appeals for the Eighth Circuit.