News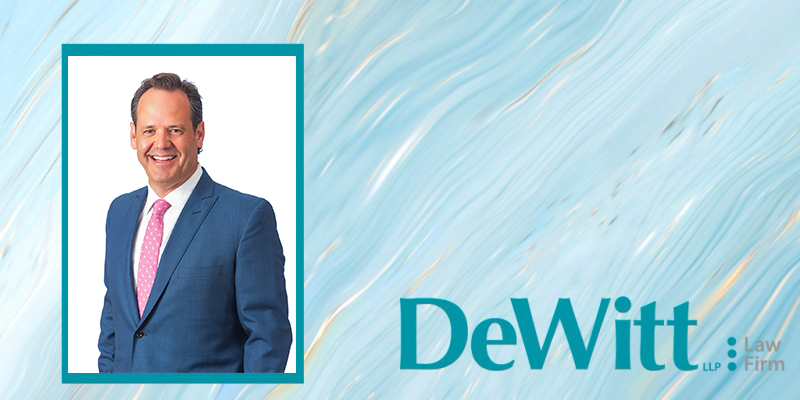 Christopher M. Scherer Elected to the Programme Committee of AIPPI and as Treasurer of AIPPI-US
Nov 28, 2022 | Michelle M. Friedman
Today DeWitt LLP announced its partner Christopher M. Scherer was recently elected by the International Association for the Protection of Intellectual Property (AIPPI) to serve on its international Programme Committee and was also elected as Treasurer of AIPPI-US.
Scherer is Co-chair of the firm's Intellectual Property (IP) Practice Group and is also a member of DeWitt's Executive Committee. His domestic and international practice involves all facets of IP law, especially patent and trademark prosecution particularly for electrical and electronic circuits and systems, computer software, artificial intelligence (AI), machine learning, medical devices, medical patient monitoring and treatment technology, device fabrication, optical devices and systems, security notes and mechanical devices. Additionally, he serves as In-House Corporate Counsel on a contract basis, where he manages IP portfolios, litigation matters, as well as all other legal issues the client might have.
Scherer is Martindale-Hubbell AV Preeminent® Rated and is included in the IAM 1000 list of International Patent Professionals, the WTR 1000 list of International Trademark Professionals, is a designated IP Star (Patent & Trademark) by Managing Intellectual Property and has been recognized by the Client Choice Awards™ – in the Wisconsin Patents category. He earned a J.D. from the University of Illinois – Chicago School of Law School and a B.S. in electrical engineering from Marquette University. He is admitted to practice in Illinois, Wisconsin, and the United States Patent and Trademark Office (USPTO).
About AIPPI and AIPPI-US
AIPPI is the world's leading not-for-profit association dedicated to the development and improvement of laws for the protection of intellectual property. According to its website, the Programme Committee is the research arm of AIPPI
consisting of members who keep themselves informed about current and likely future topical matters relating to IP and guide the direction of AIPPI's work on programming topics for its members. AIPPI has more than 8,000 members in over 100 countries and operates mainly through national groups such as the US Group, AIPPI-US. AIPPI-US has approximately 300 members and is managed by the American Intellectual Property Association (AIPLA).